Press Release: Next Year, Things Will Be Different
Next Year, Things Will Be Different
Lemorn Literary Works is proud to announce the release on June 30th 2014 of our first young adult collection. The book contains stories by three writers, two who are giving us the privilege of releasing their first work for publication. (Both have written for many years but haven't taken this exciting step.) 
You can pick up the book at Smashwords and it'll push to other eVendors shortly. https://www.smashwords.com/books/view/453519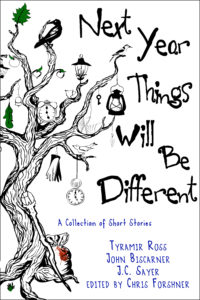 Next Year by Tyramir Ross (Words: 7,087)
Walker may not have finished high school yet, but he and his team are certainly finishing off every one of the G'laek they can. Now they face one of the oldest and most powerful of the ancient demons they have encountered. Can Walker use the power granted to him in Quellios of the Rising Waves, the great staff that conjures fire, as well as his own brains to save himself and his friends?
Illusion of Choice by John Biscarner (Words: 5,342)
When given the chance to have everything your heart desires, what would you ask for? Many of us have thought of what we would ask for, but have we ever really thought about the consequences of said wishes? Darren, a young teen, has been asked a simple question: "What do you want from life?"
The Garbage Man's Boy by J.C. Sayer (Words: 5,733)
In the 1950s, the small northern Ontario town of Mallieu was terrorised by a serial killer named the Ferry Man. Ron, the Garbage Man's Boy, navigates small town politics in the wake of these murders, finding hidden truths he probably shouldn't have found while trying to protect the ones he loves from a terrible fate.